New professional soccer club will begin play in 2024 and include men's and women's teams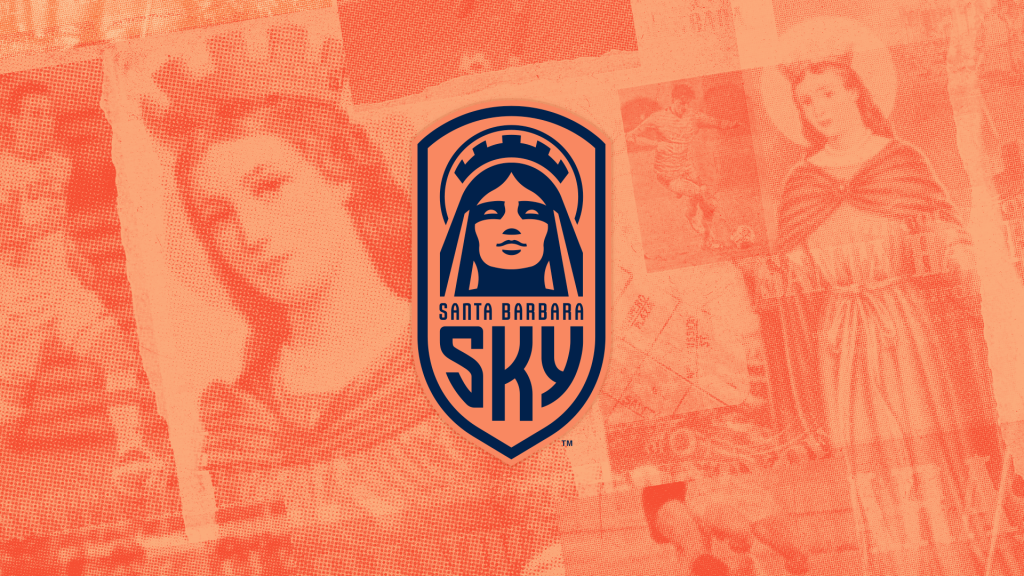 SANTA BARBARA, Calif. and TAMPA, Fla. – The United Soccer League (USL) today continued its unparalleled growth, announcing a new USL League One expansion club, Santa Barbara Sky FC, to begin play in 2024. The club was officially welcomed into the USL during an event at Santa Barbara's MOXI, The Wolf Museum of Exploration + Innovation, where Sky FC unveiled its colors and crest.
Former Liverpool FC CEO Peter Moore is the club's founding investor, bringing years of executive experience in sports and gaming with Reebok, Sega of America, Microsoft (Xbox), and EA Sports, among others.
"Soccer unites communities. With that as our mission, I am proud and honored to announce that we are bringing men's and women's USL soccer to Santa Barbara," said Moore, founder of Santa Barbara Sky FC and Santa Barbara Professional Soccer Foundation. "We are a true American soccer town. We are a diverse but united community; we need and deserve a local professional soccer club that can compete on a national level."
"We are so excited to welcome Santa Barbara Sky FC into the USL," said USL Chief Operating Officer Justin Papadakis. "This vibrant, diverse city and the surrounding areas have shown tremendous affinity for the world's game. Peter Moore is a proven leader in global soccer and sports business. He and his Santa Barbara-based team have captured the passion and essence of this community with a world-class brand and an ambitious vision that will fuel local pride for years to come."
The club also announced the formation of its philanthropic foundation, "La Fundación del Cielo," which will support disadvantaged groups in the Santa Barbara community.
"I am pleased to hear of Santa Barbara Sky FC's inclusion in the USL," said City of Santa Barbara Mayor Randy Rowse. "Having a professional soccer team in our city will be a great way to get our local young people excited about one of the most popular sports in the world and getting support from La Fundacion del Cielo foundation will be a great benefit to the community."
Sky FC's crest depicts the city's namesake, Santa Barbara, as a symbol of protection, kindness, strength, beauty and history.
"The Santa Barbara Sky FC brand is rich in color and symbolism and is an exquisite representation of our city and its rich and deep cultural roots," said Peter Young, SVP of Business Development & Marketing. The colors terracotta and navy blue represent the unique local Spanish-style terracotta rooftops along the backdrop of a deep blue sky. Santa Barbara is a very special place, and we are committed to maintaining and representing its charm and integrity."
Details regarding Santa Barbara Sky FC women's team will be announced in the coming months. The USL W League recently completed its inaugural regular season with 44 teams across 20 states; W League playoffs begin this week. The professional USL Super League's inaugural season kicks off in August of 2023 with a fall-to-spring season that aligns with international women's soccer.
"We are building something special here in Santa Barbara," said Sheralyn Baltes, SVP of Technology & Business Operations. "We are an inclusive, community-driven club deeply committed to providing equal playing opportunities for both men and women. As such, we are excited and proud to launch both professional men's and women's teams in 2024. With 40,000 women playing college soccer, the talent pool greatly exceeds the current number of opportunities for women players. We're going to help narrow that gap while fueling aspirations of girls and boys in Santa Barbara and beyond."
Santa Barbara Sky FC will play its home matches at La Playa Stadium on the campus of Santa Barbara City College (SBCC). Iconic ocean views and proximity to downtown make La Playa Stadium an ideal location for professional soccer and the club's partnership with SBCC will provide benefits for students, local businesses, and the facility itself.
Santa Barbara Sky FC's inaugural season will kick off in 2024. Fans interested in placing a deposit on tickets for the 2024 season can visit www.santabarbaraskyfc.com.
Learn more about SBSFC by following the club on social media:
Twitter: @SBSKYFC | Instagram: @santabarbaraskyfc | Facebook: @santabarbaraskyfc
Newsletter: www.santabarbaraskyfc.com/newsletter
App: Apple App Store | Google Play Store
YouTube: https://www.youtube.com/channel/UCevvbDiG8U_JMhHfYKIBgCA  
About USL
Impacting more than 200 communities, the United Soccer League (USL) is the largest professional soccer organization in North America. The USL is the first and only soccer organization in the United States to build a youth-to-professional pathway for both women and men within one ecosystem. That structure includes three professional leagues: USL Championship (men), USL Super League (women), and USL League One (men); two national pre-professional leagues: USL League Two (men) and W League (women); and two national youth leagues: USL Academy and Super Y League.
The USL is shaping the future of soccer in America, leading the push for equality between men's and women's soccer, and aligning with the global game while igniting passionate fan bases across the country.