Montecito's Peter Moore, a legend in the video games industry and a former CEO for Liverpool FC, is the lead investor in a team that will start play in 2024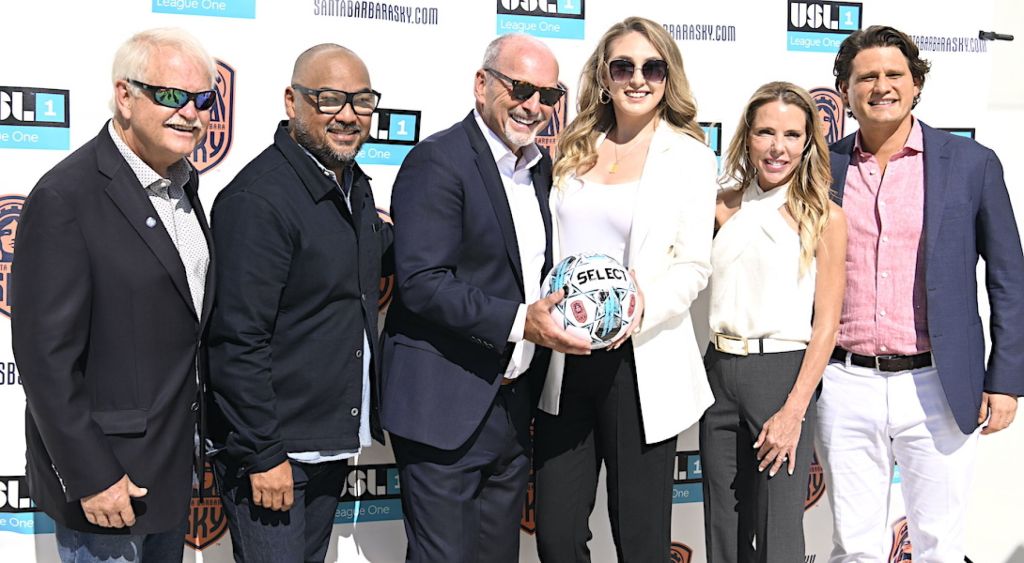 A professional soccer club is building a home in Santa Barbara.
Santa Barbara Sky Football Club, an expansion team of the United Soccer League, is laying a foundation and getting all the framework in place before taking the field for its first game in the spring of 2024.
The club has the financial support of founding owner Peter Moore, a Montecito resident and highly successful British-American businessman who was a rock-star executive in the video games industry and served as CEO of the Liverpool Football Club of England's Premier League.
Sky FC was officially accepted into the USL on Tuesday in a ceremony on the rooftop of the MOXI, The Wolf Museum of Exploration + Innovation.
"This is a community ripe for having a professional club," said Moore, 66, a native of Liverpool who has lived in the United States for most of his life and moved to Montecito 18 months ago. "I'm so blessed to have the opportunity to live here. I've made a few dollars in my life and now I have the opportunity to give back."
Justin Papadakis, the USL chief operating officer, welcomed Moore and Santa Barbara Sky FC into the league.
"This vibrant, diverse city and the surrounding areas have shown tremendous affinity for the world's game," he said. "Peter Moore is a proven leader in global soccer and sports business. He and his Santa Barbara-based team have captured the passion and essence of this community with a world-class brand and an ambitious vision that will fuel local pride for years to come."
Santa Barbara Mayor Randy Rowse said Sky FC will be "a jewel in the crown for the city that is a crown."
Sky FC paid a $5 million franchise fee to join USL. The club will field a men's and a women's team in the league, which is the largest professional soccer organization in North America. It has been in existence for more than a decade, has more than 150 clubs in its membership, and is sanctioned by the United States Soccer Federation.
"Because of their commitment to gender equity, the little boys and little girls here in Santa Barbara can say, 'If I can put that extra hour in practice, if I can skip that party and go to another training session, watch more film, just like the boys, I can play under the lights on ESPN in front of thousands in my community week in and week out as a professional athlete,'" Papadakis said. "It's a such special opportunity we have to bring a professional sports team to a market."
Moore spent time with USL officials, attended their winter meetings in Tampa, and met with investors of other teams. He came away impressed with the organization.
"I played here in the '70s, and I've seen leagues come and go (in the U.S.)," he said. "The thing I've learned having been involved, transiently or directly in the game, is you're only as strong as your league and the other teams that are in it. I wasn't going to jump into this without spending a lot of time with USL."
Sky FC will play their home matches at SBCC's La Playa Stadium.
"It's not a perfect soccer stadium, but, boy, there's not a more perfect location anywhere. You can imagine the TV pans before kickoff," Moore said.
The crest of Santa Barbara Sky FC features the face of Saint Barbara.
The club is working with the college on stadium improvements that will enhance the game-viewing experience.
"We've got to put some money into that, and it will help the college and help the community. And it'll help the PE and athletic department — better flood lights, better seating," Moore said. "We're going to look at the video board, which is not marine grade. That will help us with our sponsors who will be able to put their videos up there."
Lyndsay Maas, the vice president of business services at SBCC, said supporters of starting a local pro soccer club contacted the college months before Moore got involved.
"They put in a lot of effort and thought and time creating something that is beneficial to both their league and to our community college and to the community," Maas said. "We've had a lot of conversations about what works for us and what works for them and tried to merge both of our interests, so I feel positive about that."
She said the college is excited about the future capital investments that Sky FC wants to make on the campus. She cautioned, though, that the changes can't compromise college and community programs.
"We're working together to make sure that what they need will also work with our community programs and our academic and athletic programs," she said. "We're working through all those details now."
The Sky FC men's team will play in USL League One, professional soccer's third division in U.S. Soccer behind Major League Soccer (first division) and USL Championship (second division). The League One season runs from March through October.
Sky FC women will play a fall-to-spring schedule in a newly launched USL Super League, a second division pro circuit behind the National Women's Soccer League.
"Having a women's team is critically important, and ultimately building out a full academy system, where from under-6 all the way to professional, potentially you can play for the Santa Barbara Sky," Moore said. "We'd love to be able to build that."
In building toward kickoff in 2024, Sky FC plans to name a president and front office in the first quarter of 2023 and a coaching staff in the second quarter. Once those positions are filled, a player roster will be developed.
The clubs that make up League One are located in communities with populations between 150,000 and 1 million. Currently, there are 11 teams playing in the league, with only one in California — Fresno-based Fuego FC.
The other League One teams include Charlotte, North Carolina, Chattanooga, Tennessee, Madison, Wisconsin, Greenville, South Carolina, Statesboro, Georgia, Richmond, Virginia, Windsor, Colorado, Cary, North Carolina, Omaha, Nebraska, and Tucson, Arizona.
Sky FC is part of League One's expansion plan to "launch new clubs in markets that possess strong local ownership groups, populations with broad-based diversity, a vibrant millennial and strong family base, established corporate support, and stadiums to properly showcase the sport for fans, partners and the public," according to the USL website.
The timing of Sky FC's inaugural season couldn't be better as it comes just as one World Cup cycle ends and another begins.
The club will begin play two years following the men's World Cup in Qatar this fall, a year after the women's World Cup in Australia and New Zealand, and two years before the men's World Cup comes to North America.
Los Angeles and Santa Clara have been selected as host cities for matches in 2026.
Moore's large investment in Sky FC, as well as his business and marketing acumen, met the USL's criteria of its clubs having strong local ownership.
The former physical education teacher built an impressive career path in this country.
Keep up with Noozhawk's daily COVID-19 coverage, delivered at 4:15 a.m. right to your inbox.
He served as vice president of Global Sports Marketing at Reebok during the 1994 World Cup, and signed soccer stars Julie Foudy and Brandi Chastain to Reebok contracts when the U.S. Women's National Team won the gold medal at the 1996 Olympics.
He moved into the burgeoning video game industry and became a business and marketing rock star. He was president of Sega of America and corporate vice president of Microsoft's Interactive Entertainment Business Division, overseeing Xbox and Xbox 360 game consoles.
From 2007 to 2011, he headed the game division of EA Sports, the makers of the super popular FIFA soccer and Madden football games. In 2012, he was appointed chief operating officer of Electronic Arts.
He left EA in 2017 for the job a lifetime: CEO of his beloved Liverpool Football Club.
In his three-year tenure, Liverpool won the UEFA Champions League, the Premier League and a FIFA Club World Cup title.
The stunning 2019 Champions League semifinal comeback from a 3-0 first-leg loss to a 4-3 aggregate victory against Barcelona and Lionel Messi still gives him goosebumps. Liverpool went on to beat Premier League rival Tottenham, 2-0, for their first Champions League title since 2005.
The Liverpool ownership recognized Moore's achievements in a farewell statement on the club's website.
On behalf of Fenway Sports Group, principal owner John W. Henry, chairman Tom Werner and president Mike Gordon said: "We would like to place on record our gratitude to Peter for his contribution and moving the club forward over the past three seasons. He has strengthened the club's business operations through his leadership and we are grateful to him for his passion, dedication and support. We wish him, his wife Debbie and their families every success for the future as they return to the U.S. and hope they will come back to visit us to take in a few games at Anfield."
Moore still has a full-time job in the tech industry as senior vice president and general manager in sports and entertainment at Unity Technologies. The firm made its name as the world's leading game engine, helping artists and developers in the gaming world render 3D worlds in real time. Film and television studios are using its technology.
In concert with Santa Barbara Sky FC, Moore is forming "La Fundación del Cielo," the Sky Foundation, which will support disadvantaged groups in the community.
"I've learned through my charitable foundation in Liverpool that the platform of football/soccer is very powerful," he said. "Using football for mental health, camaraderie, team-building skills and education, that's what we do with the Peter Moore Foundation.
"Helping disadvantaged families here through football is going to be the key. The charitable foundation will run concurrently with the team itself and give back to the community.
"The Santa Barbara Foundation, which we will roll into as well as the SBCC Foundation and people like (CEO) Geoff Green, have already said we want to be a part of this, because we recognize the power of what you can do here."
He added that the club will be seeking commercial-corporate sponsors.
Moore and his Sky FC organizing team have been "working in stealth" to build a brand. He said the team colors of terracotta and navy blue represent the Spanish-style rooftops on many buildings in the community, and the night or early morning sky over the ocean. Moore's view of that sky when he arrived in the area is the inspiration behind the club's name.
"It struck me when I moved here," he said. "I lived in big cities where there was so much light. You don't get that here. We face south, so it's a little darker over the ocean."
The crest is shaped like a window of the Santa Barbara Mission and features the face of Saint Barbara.
Moore believes the crest might be the only one in men's professional soccer around the world that features a woman.
"We did a lot of work and a lot of thinking that we wanted (the colors and crest) to resonate here and make it uniquely Santa Barbara," he said.
Fans can purchase Sky FC apparel at the club's website (santabarbaraskyfc.com) starting Wednesday.
"Even though we're 18 months from playing, you'll be able to see in the coming months people walking around Santa Barbara with Sky FC merchandise," Moore said.
Fans can also put down a deposit of $25 for season tickets. Ticket pricing has yet to be determined.
The club has set up social media platforms: Twitter (@SBSKYFC), Instagram (@Santabarbaraskyfc), Facebook (@SantaBarbaraSkyFC) and YouTube.
In forming his plan to start a team, Moore met with local soccer legends Tim Vom Steeg and Rudy Ybarra and others, to gain knowledge of the soccer landscape in the area.
Vom Steeg and Ybarra both played on the last professional soccer team in town, Real Santa Barbara, in 1989-90 before it folded. Another team, the Condors, existed for one season in 1976.
Vom Steeg, the men's soccer coach at UCSB for 23 years, has built the program into a national power. The Gauchos won a NCAA College Cup national championship in 2006 and finished as runner-up in 2004. He's also coached at SBCC, the local high schools and various youth organizations.
Ybarra was a back-to-back CIF-SS Player of the Year and CIF champion at Santa Barbara High in the mid-1970s. He went on to play professionally in the North American Soccer League and later went into coaching.
He's coached at the high school, college, semi-pro and club levels. He won a CIF title at Santa Barbara High and coached the Santa Barbara Soccer Club to four U.S. Youth Soccer national titles.
"I brought all the movers and shakers to my home and we started going through what our plans were, listening to them; the history where we've been, the challenges, things that have been here before and fallen down, so, you learn by those," Moore said. "Our goal, as I say to my team — 'I still have a full-time job in tech' — is fail fast, fail cheap; figure out things, figure out what's working, don't spend a lot of money on them. That's how you move through things."
Moore wants to tap into the youth soccer families and get them excited about having a professional soccer team in town.
"We've done the demographic reach of how many families have kids that play soccer and are within that 30-, 40-minute drive of Santa Barbara. It's clearly in the tens of thousands," he said. "Having that outreach, having ourselves embedded in these leagues, is key."
His long-term goal is to have those kids want to play for Sky FC.
He said in the club's mission statement, Reach for the Sky: "We have a clear and long-term vision of building on the community, civic, commercial, and cultural pillars that already exist in Santa Barbara. We are building a club that the young people in our community will dream of playing for."